How Virtual Virginia Works
Virtual Virginia is a partner to all Virginia public school divisions. Through these partnerships, VVA provides a variety of educational opportunities to K–12 students and educators throughout the Commonwealth.
How does it all work? VVA is composed of four overall programs, each meeting different educational needs for students, educators, and public schools and divisions.
K–12 Instruction
Outreach Program
Professional Learning
Summer Session
K–12 Instruction
Virtual Virginia offers full-time and part-time online instruction to K–12 students throughout the Commonwealth and nation. Each public school student enrolled in VVA retains membership with their enrolling school division. Instruction is available for students attending school in person and for homeschooled students.
Outreach Program: Statewide LMS & Course Resources
The VVA Outreach Program is designed to assist Virginia public school teachers and students by providing access to digital learning resources that can be incorporated via the Statewide Learning Management System (LMS) at no cost.
Professional Learning
VVA's Professional Learning program provides Virginia public educators with a variety of no-cost online training opportunities, including webinars, courses, certifications, credentials, virtual conferences, and the VVA Professional Learning Network.
Summer Session
Online learning is available year-round thanks to Virtual Virginia's Summer Session program, which provides summer learning experiences for K–12 learners across the Commonwealth and beyond.
For specific questions about participating in one or more of Virtual Virginia's core programs, please contact our main office at [email protected].
Synchronous vs. Asynchronous: What's the Difference?
Synchronous Instruction
For synchronous instruction of VVA courses in a school setting, live instruction is delivered to all students simultaneously. Each student interacts with the VVA instructor individually, and a mentor is present to support students and interact with the VVA instructor as needed.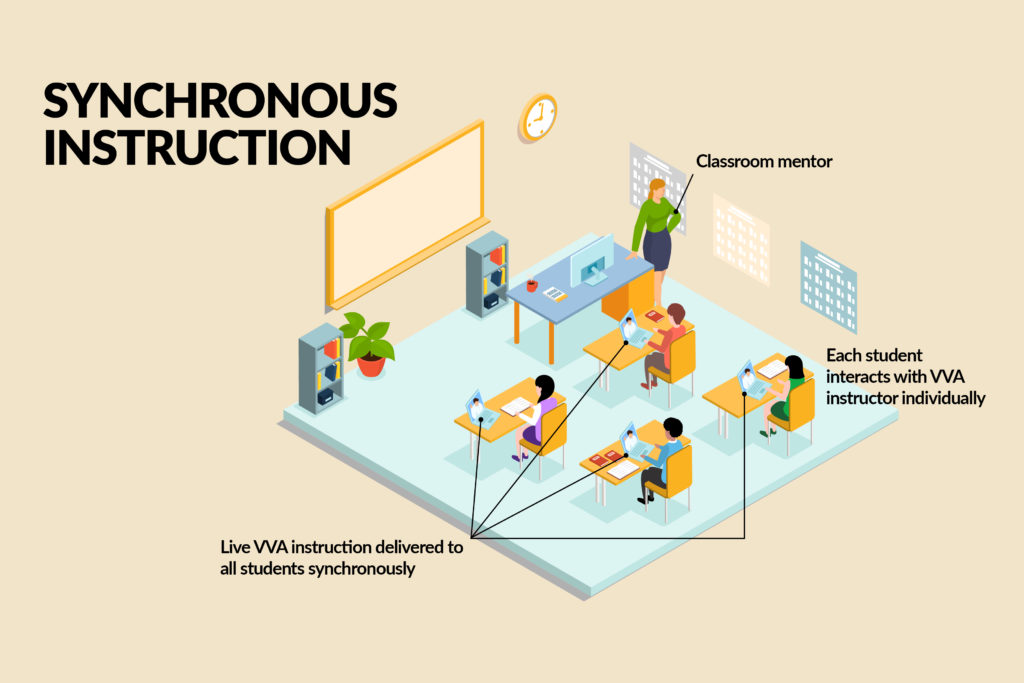 Asynchronous Instruction
For asynchronous instruction of VVA courses in a school setting, students access their online courses, complete work, and ask their instructor for help. A mentor is present to support students and interact with the VVA instructor.