Synchronous Instruction, Grades 6–12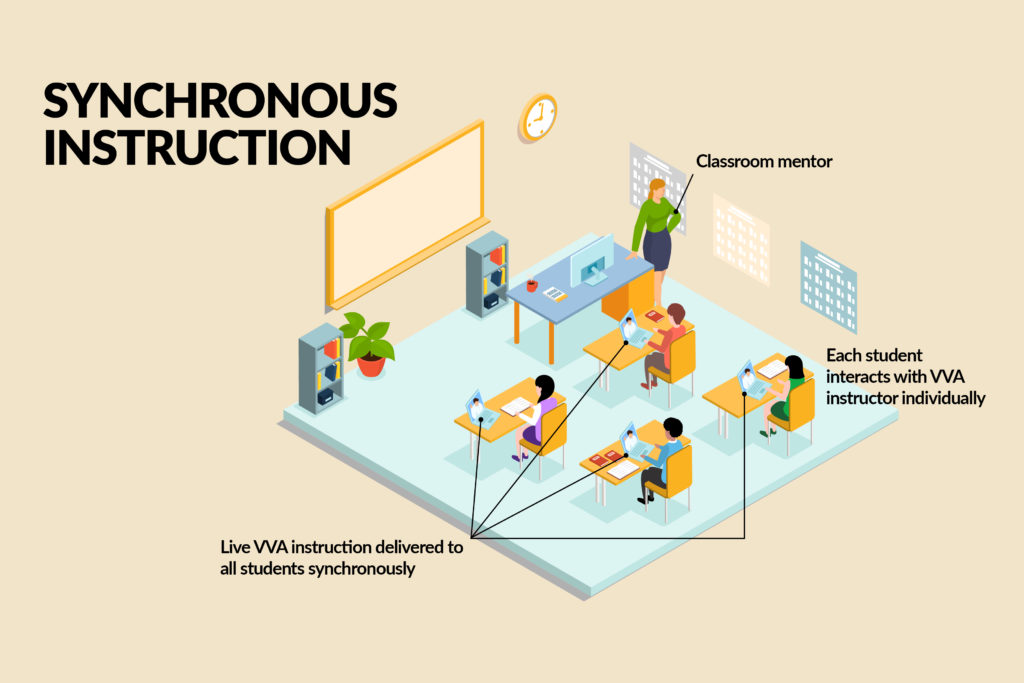 For synchronous instruction of VVA courses in a school setting, live instruction is delivered to all students simultaneously. Each student interacts with the VVA instructor individually, and a mentor is present to support students and interact with the VVA instructor as needed.
Select Enrollment
Students Choose Courses and Instructional Times
Virtual Virginia's Select enrollment options allow students in grades 6–12 to choose not only their VVA courses, but also the meeting times for their daily synchronous instruction. Select enrollment supports part-time and full-time online learning needs across the Commonwealth.
View the complete Select schedule of courses and available instructional times for 2022–2023 (via Google Docs)  
Note: You may download the Select schedule linked above to your computer. In the document, click File, then Download, and then the file type you want. Please note that the Select schedule is subject to change, so you should always consult the link above for the most accurate, up-to-date information.
Select enrollment allows a full-time student to create a personalized schedule of courses from VVA's catalog and allows a part-time, in-person student to enroll in one or more courses at times that align with their daily schedule at the local school. Additionally, school divisions facing teacher shortage areas can use Select enrollment to ensure their students have live access to Virginia-certified educators during the school day.
All daytime meeting times are scheduled for Monday through Friday. The 5:45–6:30 p.m. meeting time is scheduled for Monday through Thursday.
Note that for most courses, each time-based section requires a minimum of 40 enrollments. If a course section doesn't meet this minimum, then any students enrolled in that section will be offered their next choice of time-based section. Courses with typically lower enrollments may have fewer time-based sections, and in some limited cases, there will be only one time-based section available.
Students are expected to attend all synchronous sessions for the time-based section in which they enroll. However, synchronous sessions are recorded, and recordings are posted in the Virtual Virginia courses. All students are responsible for the content presented during the synchronous sessions.
Asynchronous Option
Virtual Virginia acknowledges that not all students in grades 6–12 may be able to attend scheduled synchronous sessions for the 2022–2023 school year. Therefore, VVA now offers an asynchronous option for students in grades 6–12 who need increased flexibility in their schedules. Designated school counselors and division/school coordinators may request an exception to attending synchronous sessions for students in good standing. For more information, see Asynchronous Instruction, Grades 6–12.
More About Secondary Instruction
Virtual Virginia promotes meaningful interactions between K–12 learners and instructors through time-based or task/product-based measures of attendance. A meaningful interaction is defined as two-way engagement with a student and staff that allows some sort of feedback or input from the student on successes and challenges.
For secondary students (grades 6–12), interactions with teachers or appropriate school staff are structured to support daily engagement through a variety of formats, including daily synchronous instruction sessions, synchronous 1:1 instruction, email communications, assignment feedback, and engagement in a course discussion board, in addition to logging in to the VVA learning management system.